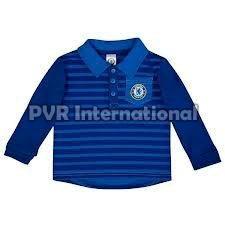 Polo T Shirts have always been a go-to wearing options for many men and women out there. And when it comes to kids in specific, it is like their favourite buying option. Whether you are sending your baby to school on his/her first day or your grown up son is heading off to college, knitted polo tees will definitely be stocked in the wardrobe. So what is it that makes polo t-shirts a go-to option for all the kids out there? While you will get to know the answer to this question in the later paragraphs to come, let us first share what the history of Polo T-Shirts hold.
A Brief History About Polo T-Shirt
There is no denying the fact that polo shirt has been around for decades. In fact, the first variation of what is now considered the classic polo was designed for Indian polo players all the way back in 1875. As far as the history of Polo T Shirt is talked about, in 1952, a variation of the polo shirt featuring an iconic laurel wreath was designed by British tennis champion, Fred Perry. This was done as part of his sportswear line. The year 1972 saw the launch of the American Ralph Lauren Polo brand, and today the timeless top is worn by not only athletes, but celebrities as well, or we should rather say, just about everyone else.
Below are some factors to be taken into consideration before buying Kids Knitted Polo T-Shirt:
• Fabric
One of the foremost things to take into consideration before buying Kid's Knitted Polo T Shirt is the fabric of the piece you are getting. One of the best fabrics of a Polo T-shirt is knitted polo t-shirt, which is made using long needles to create stitches of a single yarn. If you don't know how to recognise knitted polo t short then the easiest way is to look at the material very closely and if one is different from the braid right next to the other, then it is a knit.
• Size
There are many sizes of Kids Knitted Polo T Shirts available in the market. In case you are wondering how to select a perfect size for you baby then make sure the tail of an untucked polo shirt doesn't extend further than midway down his/her bum. The reason why we are saying so is because it will crumple and show when tucked in. It is also to be noted here that it will throw off the proportions if left untucked.
• Comfortableness
Choosing a right polo t short is a must for kid as when the comfortableness is talked about. The best way to know if the fitting of the t shirt is right or not is by putting a finger between the arms of the kid. If there is a lot of slack, get a smaller size. Top-notch quality polo shirts are made from light materials like cotton. Therefore, they should drape nicely over your body without showing off too much.